Seven Common Injuries Sustained in Truck Accidents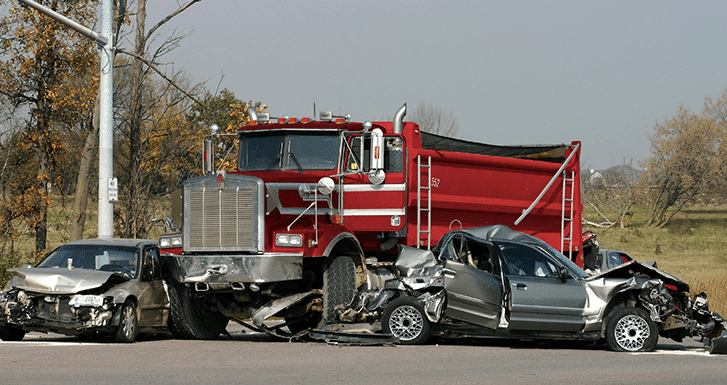 Commercial truck accidents typically result in traumatic injuries and fatalities for the passengers of other vehicles. The NHTSA reports that 72 percent of the large truck accident fatalities in 2016 were the occupants of other vehicles. The injuries sustained in a commercial truck accident results in substantial medical bills and lost wages. In addition, victims suffer intense pain and emotional distress after a truck accident.
If you were injured in a large truck accident, contact the PBAR legal team to discuss your options for filing an injury claim. You may be entitled to substantial compensation for your injuries, losses, and damages. Call 1-800-265-9881 now for your free consultation.
Common Injuries in a Large Truck Accident
Some of the most common injuries in a commercial truck accident include:
Broken Bones and Fractures
Blunt force trauma during the collision results in broken bones and fractures. In some cases, the victim may require surgery and extensive physical therapy to recover from the injury. Severe cases can result in permanent impairments.
The sudden impact of the collision can cause your head to slam into objects in your vehicle causing a variety of head and brain injuries. Concussions, traumatic brain injuries (TBIs), and facial fractures are common. If you experience any symptoms of a brain or head injury, seek immediate medical attention.
A back injury can cause permanent impairment and chronic pain.  Some victims require lifelong medical and personal care. Common back injuries in a large truck accident include spinal cord injuries, paralysis, sprains, compression fractures, and herniated discs.
Whiplash, nerve damage, torn ligaments, and muscle damage can be caused when your body is violently thrown in different directions during a collision. While many neck injuries may heal with time and rest, some cases cause chronic pain, reduced mobility, and permanent impairments.
Internal Bleeding and Injuries
Internal bleeding and damage to internal organs can be life-threatening. Damage to the liver, kidneys, bladder, pancreas, and spleen are common. If you are not treated quickly, the injuries can be fatal. Never ignore abdominal pain after a truck accident.
A large truck accident can result in amputations of limbs. Victims of commercial truck accidents can lose legs, arms, hands, or feet.
Commercial trucks have extremely large fuel tanks. In addition, some large trucks transport highly flammable liquids.  In a collision, fires and explosions can result in severe burns. Burn injuries are painful and cause scarring and disfigurement. In some cases, victims suffer complications from the burns that can be life-threatening, such as infections.
Contact our Indianapolis Truck Accident Lawyers for Help
The above injuries are only some of the injuries victims sustain in large truck accidents. Victims of truck accidents deserve compensation for their pain, suffering, financial losses, and mental anguish. The truck accident lawyers of Poynter & Bucheri, LLC fight for your right to full compensation of all damages.
Trucking companies and insurance providers do not want to pay large settlement claims for truck accidents. In many cases, these companies fight truck accident claims. They have large teams of professionals to protect their best interests.  Let our Indianapolis truck accident attorneys protect you.
Call 1-800-265-9881 or (317) 780-8000 or contact us online to schedule a free consultation with one of our lawyers.