Older Drivers and Car Accidents in Indiana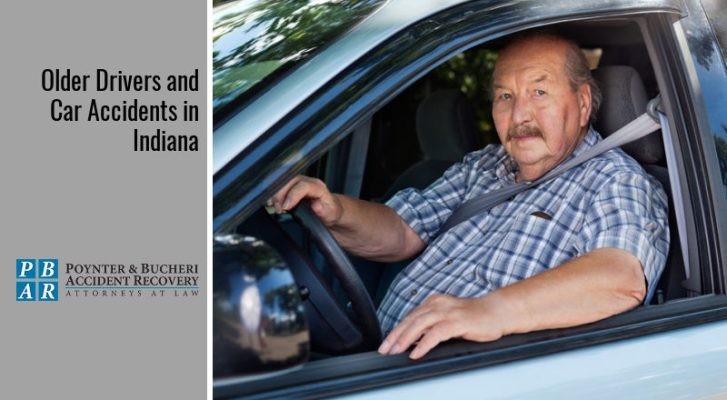 What you'll learn reading this article:
Indiana has extra driving rules that apply to people age 75 and older.
When there are concerns about an older driver's fitness to drive, the BMV could start an investigation.
An Indiana car accident attorney is a great resource for legal options after an older driver causes a car accident.
Experienced drivers are the safest drivers on Indiana's roads. Older drivers are generally less likely to cause accidents than newly-licensed teenagers, for example.
But at some point, a person's age-related health issues can become a driving problem. Poor vision, hearing loss, stiff joints, slow reflexes, and certain medications can affect someone's ability to drive safely. That's why the state has extra rules in place for aging drivers.
Here's what you need to know about Indiana's age-related driving rules. This information comes from the perspective of Poynter & Bucheri, Indiana car accident attorneys who have seen plenty of car accidents involving people of all ages.
What are Indiana's Rules for Older Drivers?
Indiana has certain age thresholds that trigger additional rules for licensed drivers. When someone reaches age 75, the following rules apply:
Drivers age 75 and older must renew their licenses in person at the Bureau of Motor Vehicles every 3 years.
They must take a vision test at renewal.
A written driving test will be required if the license is more than 6 months expired.
A road driving test might be required if there has been a complaint about the driver's ability to drive, their vision, or a medical condition.
The driver is required to undergo an unsafe driver investigation requested by anyone who has personal knowledge of their driving ability.
At and beyond age 85, drivers must renew their licenses in person at the Bureau of Motor Vehicles every 2 years. The other rules listed above also remain in effect.
Are There Other License Restrictions for Older Drivers?
In some circumstances, the BMV places added restrictions on a driver's license for safety reasons. One of the most common restrictions – both for older people and drivers in general – is the eyeglasses/contact lenses restriction that requires the use of vision correction while driving.
Other restrictions address specific environmental and health situations. The BMV might give the person a driver's test to determine the level of their ability, then issue a driver's license that has a special restriction for:
Driving only during daylight hours
Not driving in rush-hour traffic
Installing additional mirrors on the vehicle
Making an adjustment to the seat height for a proper view of the road
Only driving a vehicle with power steering or an automatic transmission
Accommodations for specific medical situations
What Happens if an Older Driver Causes an Accident?
In many ways, an accident involving an older driver is like any other accident. Both drivers should assess themselves for injuries, exchange information, obtain a police report, and work with a car accident attorney to sort out the insurance and payment issues.
However, if the person who caused the accident is age 75 or older, there could be an investigation into their fitness to drive. The investigation might be requested by a police officer, a county prosecutor's office, an insurance company, an injured victim, or even a concerned friend or family member who's worried about their loved one's ability to drive.
The BMV accepts tips from virtually all concerned citizens and keeps them confidential. Investigations go through the Indiana Driver Ability Program, which tests whether someone can maintain independent driving privileges.
After the investigation, several things could happen.
A driver's license is issued with no restrictions.
A driver's license is issued with special restrictions that the BMV explains to the driver.
A driver's license is issued, with or without special restrictions, along with disability placards or plates.
The person's driver's license is suspended or revoked, but they can still obtain an Indiana identification card under the RealID Program.
If you or your loved one is an older driver who was in a car accident, contact a car accident attorney as soon as possible. At Poynter & Bucheri Accident Recovery, we can help you understand older drivers' rights and responsibilities for safe driving in Indiana.
Poynter & Bucheri Accident Recovery – Indianapolis Personal Injury Attorneys
If you or a loved one have been injured physically or mentally by a person, product, or company, you need to know your legal rights. Our personal injury attorneys are experienced with cases like yours and can evaluate what your case may be worth. We will ensure that you are protected and compensated for your injuries and losses. Why pay up to 40% in attorney fees? Our fee is only 25%* and we fight to win your case or you pay no attorney fees at all. Don't hesitate – one of our experienced attorneys can assist you right away. Call 1-800-265-9881 for a free case review.