Common Causes of Motorcycle Accidents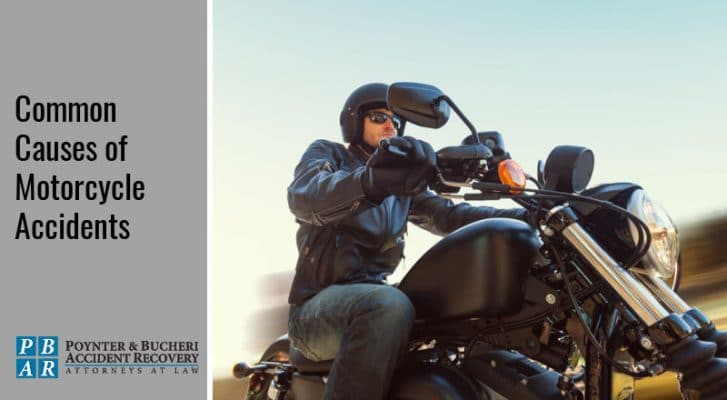 What you will learn from reading this article:
Common injuries from motorcycle accidents
Common causes of motorcycle accidents
Riding a motorcycle can best be summed up in two somewhat contradictory anonymous quotations:
Four wheels move the body. Two wheels move the soul.
And
There are two kinds of riders: those who have crashed and those who will.
Obviously, despite the latter discouraging philosophy, not everyone who rides a motorcycle is fated to be involved in an accident, but in 2019, there were 2,579 motorcycle accidents in Indiana alone. Unfortunately, these collisions resulted in 112 fatalities.
According to Indiana University's Public Policy Institute, although accidents involving motorcycles make up less than 2% of all Indiana accidents, they are responsible for 14% of overall traffic fatalities.
Why are motorcycle fatalities so disproportionately high?
It stands to reason that the downside to the freedom of riding down the road unencumbered by a protective shell of metal, plastic, and airbags is… well, the lack of protection. Motorcycle riders are 26 times more likely to die in a traffic collision and 5 times more likely to be injured than a passenger in an enclosed vehicle, according to the NHTSA.
What types of injuries are most common for motorcyclists?
Head injuries: In Indiana, motorcycle drivers under the age of 18 or who have a learner's permit only are required to wear helmets. For all others, helmets are optional. Of all motorcyclists involved in collisions in Indiana from 2015-2019, 35.1% of males and 31% of females were wearing helmets.
Arm injuries: Bikers tend to automatically put their arm down to break a fall or brace themselves.
Leg and feet injuries: For those riders needing medical care after an accident, 47% suffered injuries to their lower extremities.
Facial injuries: Full helmets can help protect the face as well as the rest of the head, but even with helmets, riders can be injured or killed.
What are the most common causes of motorcycle accidents?
Speeding: Often when drivers are speeding, they find themselves slipping or overcorrecting.
Motorcycle driver error: In Indiana crashes, the motorcyclist was at fault 40% of the time (and other drivers were at fault 58% of the time, leaving 2% of the blame for potholes and unexpected animals with bad timing). Common errors (besides speeding) are improper passing, following too closely, and disregarding traffic signals.
Alcohol and drugs: In 2019, there were 10,142 deaths caused by drunk driving in the United States. Driving under the influence affects motorcyclists whether they are the ones causing the accident or whether the affected driver is operating the other vehicle. In 2015, 28% of all motorcycle crash fatalities were attributed to drivers operating vehicles while under the influence (blood alcohol concentration of .08% or more.)
Other drivers: Often car or truck drivers simply do not see motorcyclists. This is particularly dangerous at intersections where they fail to yield right of way. In fact, in motorcycle accidents that include other vehicles, ⅔ of the time, it is because other drivers fail to yield the right of way.
Drivers also frequently change lanes without sufficiently checking their blind spots for motorcycles. Motorcyclists are at particular risk of being backed over by car drivers who didn't see them.
Road hazards: Particularly after the winter months, roads can be marred by potholes that are sometimes not visible until it is too late to avoid them.
Road conditions: You would expect inclement weather conditions to cause an uptick in motorcycle collisions, but that isn't the case. Most riders don't venture out on a motorbike when it is rainy or snowy. In fact, most accidents happen when the weather is clear. Fully 84.5% of Indiana's motorcycle accidents in 2019 occurred when the weather was clear.
For riders who do venture out when the conditions are less than optimal, ice and poor visibility can be dangerous. In 2019, 302 crashes occurred when there was poor visibility and 97 occurred when conditions were extreme.
Insufficient skills: Riders can earn a motorcycle endorsement on their Indiana license in two ways:
Successfully complete a Safety Course with an authorized Ride Safe Indiana provider.
Indiana residents who are at least 16 years and 270 days of age and hold a valid Indiana driver's license may complete a written knowledge exam and motorcycle skills exam.
However, according to the Tribune-Star, " …more than half of motorcycle operators who crashed in 2018 did not have a driver's license or a motorcycle endorsement."
If you have been involved in a motorcycle accident in Indiana, you may be entitled to receive substantial compensation for your injury claim. Our Indianapolis motorcycle accident attorneys at Poynter & Bucheri can help you recover compensation for wrongful death, property damage, lost wages, medical bills, pain, permanent impairments, suffering, and future damages.
The police may investigate your motorcycle accident and work with the prosecutor to file charges. Regardless of the police investigation, you can also do an investigation with the help of your attorney to determine if you should file a lawsuit over your accident.
Our personal injury attorneys are experienced with cases like yours and can evaluate what your case may be worth. Plus, we charge no attorney fees, unless you win. Call today for a free case review at 1-800-265-9881, or contact us online.