Injured By An Underinsured Driver? What You Can Do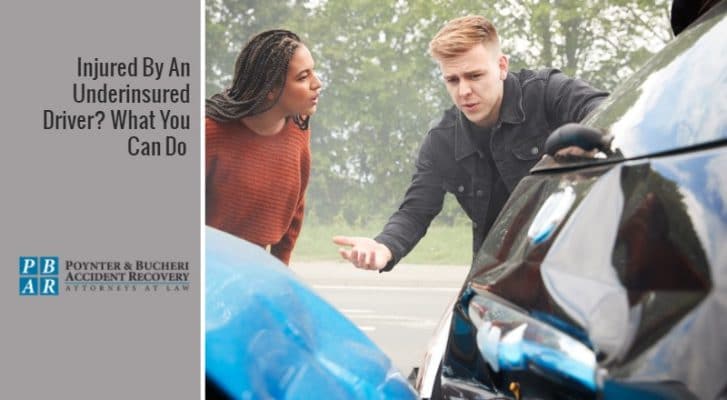 What you'll learn reading this article:
When hit and injured by an underinsured driver, you may be at a personal loss for thousands of dollars and should seek the help of a qualified attorney to fight for your rights.
The state of Indiana requires all drivers to carry minimum liability insurance and uninsured motorist coverage.
Even with these contingencies in place, it may not be enough to cover your losses as a result of injuries sustained in an accident with an under- or uninsured motorist.
If you are injured in an auto accident, you will probably think you can depend on the at-fault driver's insurance to cover losses and costs such as medical bills. The reality is the driver who hit and injured you may be underinsured to cover your losses – or may not have any car insurance at all. If the driver who hit and injured you is underinsured, what can you do about it?
Car Insurance in Indiana
In an effort to diminish the damage caused by underinsured motorists, the state of Indiana requires drivers to provide proof of insurance in order to register a vehicle. According to the Indiana Department of Insurance, the minimum liability insurance for drivers must cover the following:
$25,000 for bodily injury per person per accident
$50,000 for bodily injury for all persons per accident
$25,000 for property damage liability
In addition, all vehicle insurance policies in Indiana must include uninsured motorist coverage (UIM). This means that unless you expressly deny this coverage in writing, your own car insurance will cover the following:
$25,000-$50,000 for uninsured motorist bodily injury
$10,000 for uninsured motorist property damage
$50,000 for underinsured motorist bodily injury
If an underinsured driver's policy does not cover your damages or you are hit and injured by an uninsured driver, your own insurance policy has contingencies in place to foot some of the bill up to a certain price point.
Will Indiana's Car Insurance Minimums Be Enough?
Serious accidents that result in severe injuries can cost upwards of the under- or uninsured motorist limit, especially when you consider the services of ambulances and other emergency vehicles, emergency room care, hospital stays, possible surgeries and other medical treatment, follow-up doctor appointments and injury rehabilitation or therapy, not to mention lost wages incurred from your recovery period.
This means even as a result of an accident that is not your fault, you could be at a personal loss for tens of thousands of dollars to help with your injuries in addition to the emotional and physical losses suffered.
Seek expert assistance from an experienced car accident attorney if you or a loved one is involved in an accident with an underinsured motorist to fight for your rights and win the additional compensation you deserve.
Poynter & Bucheri Accident Recovery – Indianapolis Personal Injury Attorneys
If you or a loved one has been injured physically or mentally by a person, product or company, you need to know your legal rights. Our personal injury attorneys are experienced with cases like yours and can evaluate what your case may be worth. We will ensure that you are protected and compensated for your injuries and losses. Why pay up to 40% in attorney fees? Our fee is only 25%* and we fight to win your case or you pay no attorney fees at all. Don't hesitate – one of our experienced attorneys can assist you right away. Call 1-800-265-9881 for a free case review.