The Most Effective Safety Device in Vehicles Today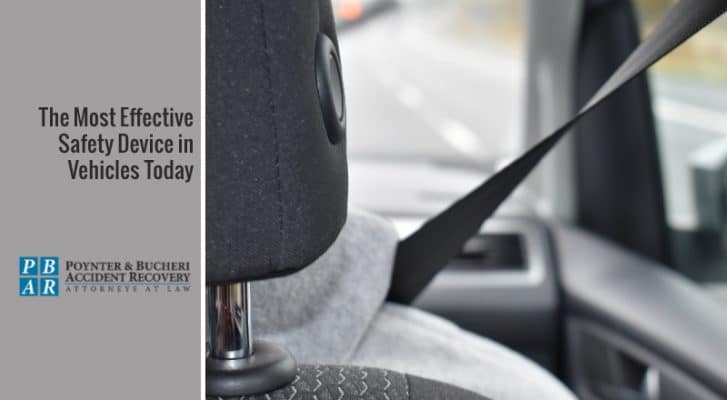 What you'll learn reading this article:
Car drivers not wearing seat belts are 10 times more likely to die and truck drivers are 14 times more likely to die in a crash than those wearing seat belts.
10,000 people who did die in a car crash** were not wearing a seat belt.
If you're not wearing a seat belt whenever your car is in forward motion, you are breaking Indiana's car restraint laws.
If you're in the market to buy a new vehicle (and even if you're not), you're probably wowed by all the new safety technology available – devices that warn us if we drift into another lane, bells and whistles that alert us if we're too close to other vehicles and pedestrians or tell us to brake if we're heading into a would-be collision.
As impressive as these new features are, they're sort of stealing the limelight from the most effective safety device in vehicles today. It's been available for over 60 years and has already proven it saves countless lives.
It's the seat belt.
It is absolutely heartbreaking to realize that an injury or a fatality as a result of an automobile accident could have been prevented by wearing a seat belt. What's more, not wearing a seat belt is against the law in most states. Seat belts protect drivers and passengers, even in non-serious crashes. All you have to do to protect yourself is strapping on the seat belt as soon as you get in your car or SUV or pickup.
Indiana's Seat Belt Laws
In Indiana, law enforcement can stop, inspect or detain you solely to determine compliance with the seat belt law, because if you're not wearing one, it's a primary offense. Under Indiana law, everyone in a vehicle, whether a driver or a passenger, must be wearing a seat belt whenever the car is in forward motion.
Younger Male Drivers More At Risk
Anyone over the age of 16 not wearing a seat belt can be fined for a first offense. Statistically, male drivers ages 15 to 44 -especially those under 25- are most likely to not be wearing a seat belt at the time of a crash, according to Indiana State Police.
Injury rates for unrestrained occupants of a vehicle are also higher 1) in rural counties; 2) when a driver is speeding or impaired; and 3) on weekend nights between the hours of 11:00 pm and 4:00 am. All Indiana motorists are more likely to suffer property damage, injuries or death from a traffic accident than to experience a burglary, to be the victim of a violent crime or to be murdered.
Indiana Restraint Laws for Children Even More Restrictive
Babies and children must be placed in infant or child car seats installed using existing seat belts and the LATCH system. Until they reach their first birthday, your baby should always ride in a rear-facing car seat, which is the safest option. Once your child reaches the top height or weight limit allowed by your car seat's manufacturer, they can travel in a forward-facing car seat with a 3-point harness. A child who outgrows this seat can move to a booster seat, which allows the car's safety belt system to fit the child properly.
A child between the ages of eight and 12 may be big enough to fit in a seat belt properly without a booster seat.
The Remarkable Seat Belt
Drivers of cars and SUVs who are unrestrained by seat belts are 10 times more likely to die in a crash than those wearing a seat belt. This number rises to 14 times more likely for drivers of pick-up trucks and 15 times more likely for drivers of vans. In 2017 alone, the National Highway Traffic Safety Administration found more than 10,000 people who died in car crashes were not wearing a seat belt.
Buckle Up Properly
Secure the lap belt across your hips and pelvis, below your stomach.
Place the shoulder belt across the middle of your chest and rib cage, away from your neck.
Never put the shoulder belt behind your back or under an arm.
If your seat belt doesn't fit you or you have an older car with lap belts only, ask your dealer or vehicle manufacturer about seat-belt adjusters, extenders or retrofits.
Poynter & Bucheri Accident Recovery – Indianapolis Personal Injury Attorneys
If you or a loved one has been injured physically or mentally by a person, product or company, you need to know your legal rights. Our personal injury attorneys are experienced with cases like yours and can evaluate what your case may be worth. We will ensure that you are protected and compensated for your injuries and losses. Why pay up to 40% in attorney fees? Our fee is only 25%* and we fight to win your case or you pay no attorney fees at all. Don't hesitate – one of our experienced attorneys can assist you right away. Call 1-800-265-9881 for a free case review.