What Happens When an Insurance Company Refuses to Pay an Injury Claim?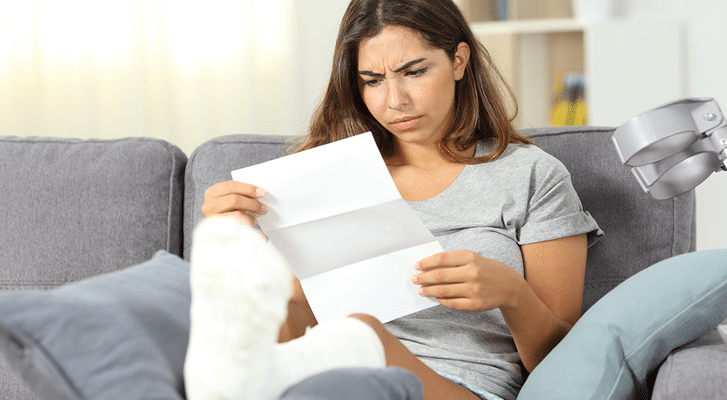 When another person or party's negligence or wrongdoing causes your injury, Indiana laws provide a way for you to seek compensation for your injuries and losses. Depending on the incident that caused your injury, your claim may fall under Indiana's product liability, premises liability, or medical malpractice laws. Other types of injuries, such as injuries sustained in traffic accidents, are considered general personal injury claims. Regardless of the type of injury case, most claims begin by filing an insurance claim against the party's liability insurance carrier. However, what happens when an insurance company refuses to pay an injury claim?
No-Fault Insurance Benefits for Injuries
While you are battling with a liability insurance carrier, you may receive no-fault insurance benefits from coverage that you carry yourself, such as health insurance, PIP coverage, and personal disability insurance. These no-fault insurance plans do not require you to prove another party caused your injuries to receive benefits. You only need to establish that you were injured and/or cannot work to receive the benefits.
However, these sources of benefits for an injury do not compensate you fully for your losses and damages. For instance, you may not be compensated fully for all loss of income, including loss of future income or loss of earning capacity. You also do not receive compensation for your non-economic damages or pain & suffering damages. Non-economic damages can be a substantial portion of your injury claim. To recover full compensation, you need to file a liability claim with the responsible party's insurance company.
Reasons Why an Insurance Company May Deny an Injury Claim
There are many reasons why an insurance company may deny a claim. Most insurance companies work diligently to limit their liability for injury claims to protect their profits. Therefore, some reasons for denying an injury claim may be valid, but some companies may deny valid claims simply to save the company money.
Reasons why an insurance company may deny your injury claim include:
The insurance does not cover the incident that led to your injury.
The insurance policy lapsed for non-payment or other breach of contract.
You failed to file a personal injury lawsuit before the deadline in the statute of limitations.
There was a long delay in seeking medical treatment and the insurance company is using that fact to claim your injury did not arise from the accident.
Pre-existing injuries or accidents may be used to claim your current injury was not caused by the company's insured.
You failed to provide adequate documentation of your physical injuries and financial losses.
The insurance company alleges you are making a fraudulent claim.
There is insufficient insurance coverage to pay the claim.
The company disputes liability for the cause of the incident that led to your injury. In other words, the insurance company blames you for your injury.
The above list contains just a sample of the reasons why insurance companies give for denying valid injury claims.
Can I Sue the Insurance Company for Denying my Injury Claim?
If the insurance provider refuses to pay a valid injury claim, you can file a personal injury lawsuit against the party who caused your injury. In most cases, the insurance provider retains a defense attorney to defend the lawsuit. However, if the insurance company acted in bad faith, you may have a separate bad faith claim directly against the insurance company. A bad faith claim would be in addition to your personal injury claim.
The Benefits of Hiring an Indianapolis Personal Injury Attorney to Help with Your Claim
Indiana personal injury lawyers understand how insurance companies process injury claims. They have experience dealing with the various tactics used by insurance providers to deny or undervalue claims. Working with an experienced attorney gives you someone in your corner who has the experience, resources, and skills to fight for your right to receive full compensation for your injuries and losses.
Contact Poynter & Bucheri to schedule a free consultation with an Indianapolis personal injury attorney in your area by calling 1-800-265-9881 or (317) 780-8000.