Distracted Driving in Indianapolis – Part 3 of 3 – Proving Fault for a Distracted Driving Accident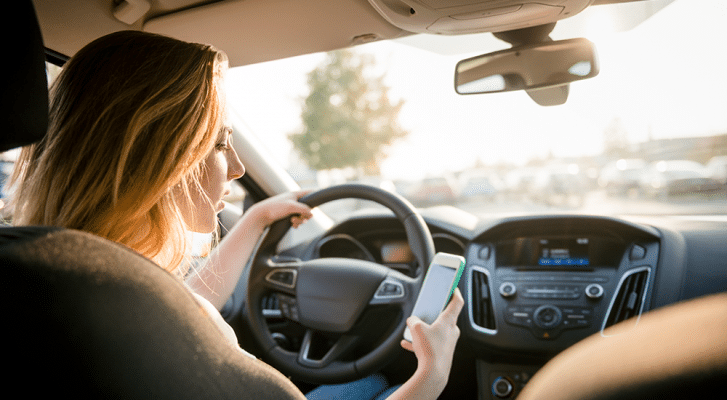 In our final distracted driving blog for Distracted Driving Awareness Month, our Indianapolis distracted driving attorneys discuss the steps you should take if a distracted driver injures you. We also discuss compensation for accident victims and how a distracted driving accident claim is valued.
Steps to Take After an Indianapolis Distracted Driving Accident
Many of the steps you should take after a distracted driving accident are the same steps you would take after any motor vehicle accident. However, you want to pay close attention to the driver's actions and the driver's comments after the crash. In some cases, a driver may still be holding a cell phone, or the driver may complain that the food he was eating spilled into the floor of the vehicle. Make notes as soon as possible after the crash to document this information.
In addition to paying close attention to the other driver, steps to take after a distracted driving accident include:
Call 911 to report the crash and request assistance.
Do not admit fault, apologize, or discuss the crash with the other driver or witnesses.
Take pictures/videos of the accident scene.
Ask eyewitnesses for their names and contact information.
Seek medical evaluation and treatment for your injuries. It is crucial that you document your injuries for your claim.
Keep detailed records of all expenses related to the crash, including copies of receipts, bills, and invoices.
Do not agree to a recorded or written statement for the insurance provider until you discuss your claim with an attorney.
Avoid using social media or posting information online.
Contact a PBAR distracted driving attorney for a free consultation.
Compensation Available for Accident Victims
The compensation you may receive for a distracted driving accident depends on the factors involved in your case. Factors that determine the value of an insurance claim include:
Type and severity of physical injuries;
Length of recovery period;
Whether you suffered a permanent impairment or disability;
Actual out-of-pocket financial losses and expenses; and,
Whether liability for the accident is disputed.
Before calculating the value of your distracted driving accident claim, we must gather evidence of your financial damages and physical injuries. Evidence includes medical records, evidence of lost income, receipts, and bills.
However, we do not want to calculate a final value for your claim until you complete medical treatment, and your doctor releases you. A large portion of your settlement may include compensation for permanent impairments and future losses. Without your doctor's prognosis and impairment rating, we cannot determine the value of future damages.
Examples of damages typically included in a demand for settlement include:
Cost of all medical treatment, including surgeries, physician bills, physical therapy, medications, medical equipment, etc.
Loss of income, including commissions, self-employed income, wages, salaries, and other lost earnings and benefits
Disability, scarring, and disfigurement
Emotional and mental suffering and anguish
Physical suffering and pain
Loss of enjoyment of life
Out-of-pocket costs for transportation, help with household tasks, personal care, etc.
Our PBAR legal team works with you to carefully document your damages and losses to maximize the compensation you may receive for your distracted driving accident claim.
Call an Indianapolis Distracted Driving Crash Lawyer for More Information
If you have questions about car accident claims involving distracted drivers, contact our office for a free case review with a Poynter & Bucheri attorney. It does not cost you anything to learn more about the claims process and how our law firm can help you with your auto accident claim.
Call 1-800-265-9881 or (317) 780-8000 to request your free consultation with an Indianapolis distracted driving accident lawyer.