What is the Best Way to Pass a Commercial Truck on Interstate 65?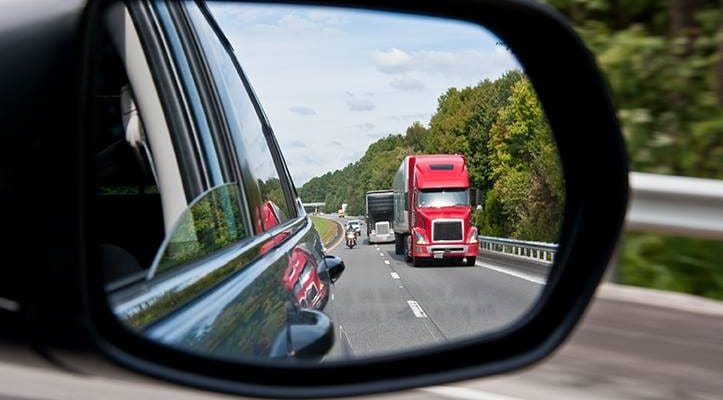 Interstate 65 through Indianapolis is a heavily traveled section of interstate. Have you ever been nervous driving next to a commercial truck on the interstate that are traveling at high rates of speed? Do you become nervous when you need to pass a commercial truck on the interstate?
If commercial trucks make you feel nervous, you are not alone, and you have good reason to feel nervous when passing these large trucks. Semi-trucks, 18-wheelers, big rigs, and other large trucks outweigh passenger vehicles by 20 to 30 times. The trucks are much larger than passenger vehicles too. Accidents involving a commercial truck are often deadlier for the occupants of the other vehicle.
Large Truck Accidents Are Deadly for Other People on the Road
According to the latest statistics released by the NHTSA last month, there was a nine percent increase in the number of deaths involving large trucks from 2016 to 2017. During 2017, 4,761 people were killed in large truck accidents. Eighty-two percent (82%) of those deaths were individuals that were not in the large truck. This was the largest number of occupants in other vehicles killed in large truck accidents in a single year from 2008 through 2017.
No Zones Are to Blame for Some Commercial Truck Accidents
Commercial trucks have large blind spots called "no zones" in which the truck driver cannot see anything from his position in the cab. These blind spots are often a contributing factor in large truck accidents. A truck driver fails to check the blind spots before switching lanes or making a turn. However, other drivers on the road also need to be aware of these blind spots and give large trucks more room to maneuver.
There are a few things you should keep in mind about driving near or passing a commercial vehicle to reduce the risk of begin involved in a commercial truck accident on I-65 or any other roadway around Indianapolis.
Never pull in front of a large truck until you can clearly see the entire cab of the truck in your rearview mirror. Large trucks cannot stop quickly. You need to make sure you leave ample space between you and the truck.
A truck driver cannot see vehicles that are too close to the rear of the truck. Likewise, drivers who are tailgating a large truck cannot see the traffic ahead. If the driver must stop suddenly, you are more likely to be in a rear-end crash if you are tailgating.
Passing on the left side is best because the blind spot is not as large for the driver on the left side of the truck.
Keep your speed constant when you pass a commercial truck. Speeding around a truck and then slowing down in front of the truck may not give the truck driver sufficient time to adjust the truck's speed.
For more information about sharing the road with commercial vehicles, you can visit the FMCSA website.
Indianapolis Truck Accident Attorneys Can Help You File a Claim for Compensation
The injuries sustained in a large truck accident are often traumatic. The damages and losses sustained by truck accident victims are usually substantial. Claims involving large trucks can be complicated and must be handled differently from other accident claims. Trucking companies and insurance providers have large teams of investigators and other professionals working on the case. You deserve a legal team on your side protecting your rights.
The Indianapolis truck accident attorneys of Poynter & Bucheri stand up for the rights of accident victims. We have experience investigating and handling claims involving commercial vehicles. Put the experience and resources of the PBAR legal team on your side after being injured in a large truck accident.
Call 1-800-265-9881 or (317) 780-8000 to request your free consultation with an Indianapolis truck accident attorney.