Is Santa Claus Bringing Your Child an ATV for Christmas?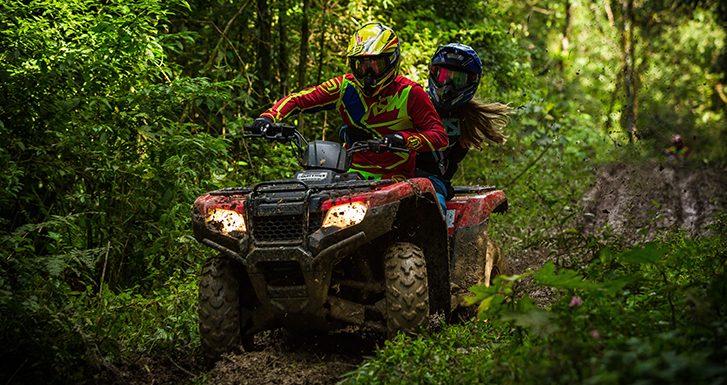 Has your child included an All-Terrain Vehicle (ATV) on his or her Christmas list to Santa Claus this year? Is Santa Claus delivering an ATV for Christmas morning? If so, your child will certainly be overjoyed by his or her new gift. However, an ATV is a motor vehicle. An ATV requires the same caution and respect used for a car or truck. While ATVs are a fun recreational activity, they can also be dangerous and deadly.
If your child is receiving an ATV for Christmas, there are some important facts that you should be aware of before your child takes his or her first ride.
ATV Accidents Can Be Deadly
The CPSC (U.S. Consumer Product Safety Commission) reports 14,653 ATV-related deaths from 1982 through 2016. Almost one-quarter of those deaths were children younger than 16 years of age. In Indiana alone, 243 people died in ATV accidents during that period.
In addition to ATV-related deaths, ATV accidents were responsible for approximately 101,200 emergency room visits during 2016 alone. Just over one-quarter of the injuries involved minors under 16 years of age. That figure could be higher because many ATV accidents are unreported.
Common Causes of ATV Accidents in Indiana
ATV accidents are the result of a variety of factors. The common factors involved in ATV accidents include:
Defective vehicles or vehicle parts
Inexperienced operators
Unsupervised children
Too many riders on the ATV
Unsafe conditions or terrain
Improper positioning of the ATV
Failing to use protective gear
Operating an ATV while using drugs or alcohol
Reckless driving and speeding
Distracted driving and drowsy driving
Several factors could be involved in an accident involving an ATV. Identifying the factors that caused the crash is an important step in filing an injury claim. Our PBAR ATV accident attorneys can help you determine the steps you need to take to file an injury claim for compensation after an ATV accident.
Should Santa Change His Mind About an ATV for Christmas?
ATVs are not inherently dangerous unless the product is defective. You can check for recalls of ATVs on the CPSC website. Provided the ATV or one of its parts is not defective, the ATV should be safe for use. However, you need to take steps to ensure that your child is trained properly in how to use the ATV. You may want to consider enrolling your child in an ATV safety course. Taking the course with your child is a good way to ensure your child is trained in all safety measures for the use of an ATV.
For more ATV safety tips for children, you can read the information provided by:
American Academy of Pediatrics
An ATV can be a fun Christmas gift for your child. However, taking steps to ensure your child understands how to operate the vehicle safely can reduce the risk of a serious injury or fatality.
Contact an Indianapolis ATV Accident Attorney for More Information
If an ATV accident injures your child, contact Poynter & Bucheri for a free consultation with an Indianapolis ATV accident attorney. You may request a free case review by using the form on our contact page or calling 1-800-265-9881 or (317) 780-8000.