Who Is Liable for Car Crashes in Work Zones in Indiana?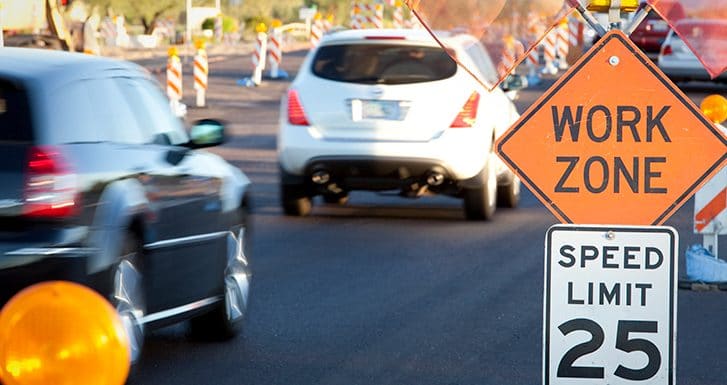 Work zone accidents increased 7.8 percent nationwide from 2014 to 2015. Nationwide, there were approximately 96,626 crashes in work zones. The number of work zone accidents has increased in the United States each year since 2013. The number of work zone accidents increased in Indiana from 2015 to 2016.
Indiana has also experienced an increase in the number of work zone collisions. Work zone accidents increased between 2015 and 2016. During 2016, there were 5,487 crashes in work zones statewide, an increase from 4,779 collisions in 2015 and 3,987 collisions in 2014.
If you are injured in a work zone collision in Indiana, it is important that you contact an Indianapolis work zone accident attorney immediately. Accidents that occur in work zones involve complex issues, including claims against government agencies. An attorney who is experienced in handling car crash claims involving work zones understand the steps necessary to protect your legal right to recover compensation for your damages.
Visit our contact page to request a free case review with a member of the Poynter & Bucheri legal team.
What Causes Work Zone Collisions in Indiana?
A variety of factors cause car crashes and collisions in work zones. Because you can only recover compensation from the parties responsible for causing a collision, it is important to determine the cause of the crash. By determining the cause of the work zone crash, you identify the party liable for your damages.
Common causes or work zone accidents include:
Errors made by drivers such as speeding, distracted driving, following too closely, drowsy driving, and improper lane changes;
Insufficient signage to warn motorists of a work zone;
Improperly narrowing lanes;
Improperly reducing the number of lanes for the level of traffic;
Changes in the level of the pavement, uneven surfaces, and debris in the road;
Failing to establish a transition zone that is sufficient for drivers to move into other lanes;
Equipment that is too close to traffic;
Improper or confusing cut off turn lanes; and,
Insufficient directions advising drivers what to do when approaching a work zone.
The PBAR legal team aggressively investigates the cause of a work zone collision to determine the cause of the crash. By identifying each of the potential parties that may be liable for the crash, we maximize the chance that you receive full compensation for all damages, losses, and injuries.
Who is Liable for a Work Zone Crash?
One or more parties may be liable for damages caused by a work zone collision. Parties that may be liable for a work zone crash include:
Other motorists
Construction companies
Sub-contractors
City, county, or state government agencies
The deadline for filing a claim for a work zone crash can be very short if the claim involves a government agency. Because government agencies are responsible for maintaining safe roads, they are often a party to a work zone crash claim. Therefore, you should contact an Indianapolis work zone accident attorney as soon as possible to file an injury claim.
Call an Indianapolis Work Zone Accident Attorney for More Information
If you are injured in a car accident in a work zone, do not delay in contact the PBAR legal team for help. We can assist you in filing an injury claim seeking compensation for your medical bills, lost income, pain, and suffering.
Call 1-800-265-9881 or (317) 780-8000 to request your free consultation with an Indianapolis work zone accident attorney.