Who is Responsible for Damages in an ATV Accident in Indianapolis?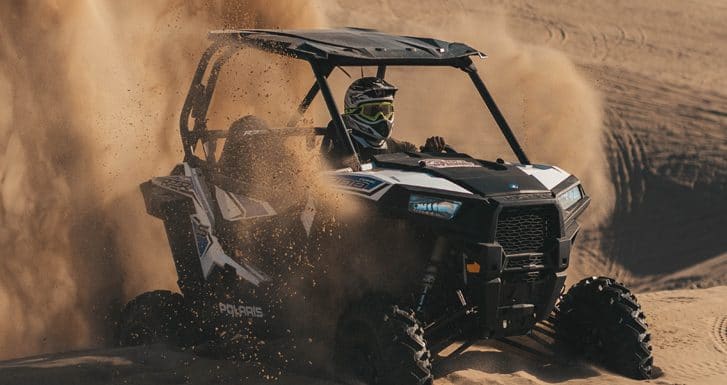 ATV accidents are more common than you might believe. According to the CPSC (Consumer Product Safety Commission), 14,653 people died in ATV-related accidents between 1982 and 2016. In 2016 alone, the CPSC received reports of 337 fatalities in ATV-related accidents. In addition to fatalities, it is estimated that approximately 101,200 people were injured and treated in ERs during 2016 after ATV accidents.
The PBAR legal team represents ATV accident victims as they seek compensation for their injuries. Call our office now for a free consultation to discuss how we can help you receive a fair and just settlement for your ATV accident claim.
Causes of ATV Accidents in Indiana
There are many different reasons why a person is injured or killed while using an ATV. Some of the common reasons injuries and deaths occur in ATV accidents include:
Speeding and reckless driving
Impaired driving (drugged driving and drunk driving)
Inexperienced drivers
Distracted driving
Too many riders on the ATV
Defective ATV parts or defective ATVs
Unsafe conditions and terrain
Failure to wear protective gear
Improper positioning of the ATV
In addition to the above causes of ATV accidents, third parties also cause ATV crashes. For example, another ATV driver might ram into your ATV or run you off the trail causing a crash.
Filing an Injury Claim — Who is Responsible?
Under Indiana personal injury laws, you must prove that another person caused the incident that resulted in your injury. In other words, who caused the ATV accident? An Indianapolis ATV accident attorney conducts a thorough investigation to determine how the accident occurred. By determining the cause of the accident, the attorney can identify the parties responsible for your damages. Your PBAR lawyer also searches for evidence that proves fault and liability.
Once the liable party is identified, our legal team can proceed to file an injury claim against the party or parties who caused your injuries. If a defective part contributed to the cause of the crash, the claim might be against the ATV manufacturer or a parts manufacturer.
However, if another person caused the crash, your injury claim might be against that person. If you were a bystander, the driver of the ATV could be held liable if the driver caused you to be injured by running into you or otherwise causing you to be injured.
It is crucial to identify the party or parties who caused the crash because only those parties are liable for paying you compensation for your damages.
Damages in an ATV accident claim may include:
Cost of medical care, including physical therapy, surgeries, doctors, medications, and medical equipment
Loss of income, including lost wages and loss of earning potential
Scarring, disability, and disfigurement
Out-of-pocket expenses related to the accident, your injury, or your recovery
Emotional and mental suffering
Physical pain and suffering
Property damage
The amount you may receive for an ATV injury claim depends on several factors. The type and severity of your injuries are a factor. In addition, the amount of your actual financial losses is also a factor. Our goal at Poynter & Bucheri is to obtain a settlement amount or a verdict that compensates you in full for all your damages.
Call an Indianapolis ATV Accident Attorney for More Information
You can also chat with a representative 24/7 online to get the help you need now! You can also call 1-800-265-9881 or (317) 780-8000 to request your free consultation with an Indianapolis ATV injury lawyer.