Steps to Take After a Bicycle Accident in Indianapolis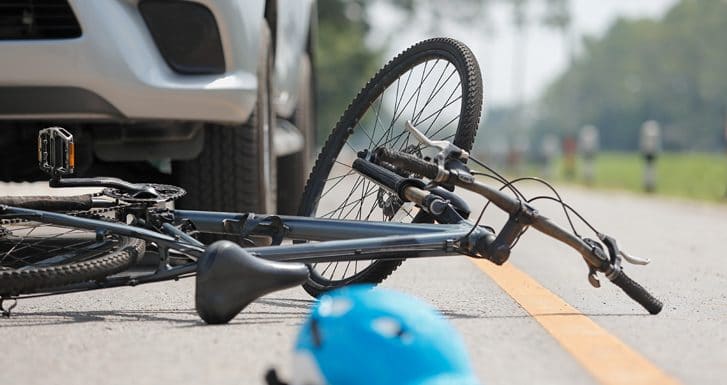 Bicycling is a popular recreational and sports activity. However, bicycling is also an excellent form of low-cost transportation. Therefore, many cities are experiencing an increase in the number of bicyclists using city streets. With an increase in the number of bicyclists, some cities might see an increase in bicycle accidents. During 2016, 840 pedalcyclists were killed in motor vehicle-related accidents nationwide. In Indiana, there were 868 bicycle accidents resulting in 12 fatalities that year.
It is a good idea to review bicycle safety tips periodically, especially with children. Bicycle accidents involving motor vehicles can cause traumatic and life-altering injuries. Bicyclists do not have the protection of a steel frame surrounding them upon impact like the passengers of a car have to protect them.
If you or your child were injured in a bicycle accident, contact the PBAR legal team for a free consultation with an Indianapolis bicycle accident attorney.
Basic Bicycle Safety Tips for Indianapolis Bicyclists
Some of the basic safety tips that can help reduce the risk of a serious injury caused by a bicycle accident include:
Always wear a bicycle helmet, knee pads, and other protective gear when riding a bicycle.
Add lights and reflectors to the bicycle to improve visibility for motorists.
Wear brightly colored clothing and add reflective strips to jackets.
Ride in groups or pairs to increase visibility.
Cross roads at intersections whenever possible.
Obey all traffic rules.
When riding near parked vehicles, be very careful because passengers may open vehicle doors in your path.
Always check your bicycle to ensure the parts are working correctly before riding.
For more information and safety tips for bicyclists, you can visit the following websites:
National Safety Council
AAA Exchange
What Should I Do If I am in a Bicycle Accident?
If a motorist hits you while you are bicycling, treat the incident like any other car accident. Call 911 to report the crash and request emergency services. You need a record of the accident for insurance purposes, and you also need to be checked by a physician. See your physician as quickly as possible if you were not transported to the emergency room from the accident scene. The insurance company could use a delay in medical treatment to undervalue your claim.
At the accident scene, take pictures or video of the vehicle, the surrounding area, and the damage to your bicycle. If any eyewitnesses stopped to help, you should ask for their names and contact information.
Contact an Indianapolis bicycle accident attorney as soon as possible. The insurance adjuster for the driver may pressure you to provide a statement or sign a release.  It is in your best interest to obtain legal advice from an experienced Indianapolis personal injury lawyer before speaking with an insurance adjuster or another party about the crash.
Contact Our Indianapolis Personal Injury Law Firm for More Information
Our Indianapolis bicycle accident attorneys want to help you recover the compensation you deserve. We fight for fair and just settlements for accident victims injured by negligent and careless drivers.
Visit our contact page to request a free case review by completing our contact form. You can also call 1-800-265-9881 or (317) 780-8000 to discuss your case and request your free case review.