How to Report Dangerous Indianapolis Intersections and Road Conditions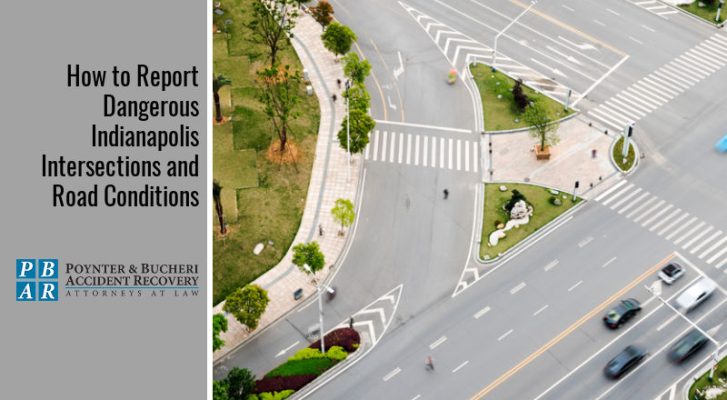 Traffic accident lawyers, news and media outlets, and local municipalities often report on the most dangerous roads and intersections in their areas. However, a lot of this data and reporting wouldn't be possible without the help of local residents.
So, as Indianapolis car accident attorneys ourselves who appreciate our fellow Hoosiers, we decided to do a blog about how you and your fellow residents can help report dangerous intersections and road conditions to help keep Indianapolis drivers safe.
And if you or a loved one are ever injured in a car accident in Indianapolis or the surrounding area, don't hesitate to reach out to the team at Poynter & Bucheri Accident Recovery for assistance.
What Are the Most Dangerous Intersections in Indianapolis?
Before we jump into how to report dangerous and unsafe road conditions, let's take a look at the current list of Indianapolis's most dangerous intersections.
Of all the counties in Indiana, Marion County had the most accidents reported in recent years—37,726 traffic collisions— and the majority of those accidents happened within Indianapolis city limits.
The Indianapolis Metropolitan Planning Organization (IMPO) lists these roads and intersections as the most dangerous:
High School Road & 38th Street
Meridian Street & 38th Street
21st Street & Post Road
County Line Road & Emerson Avenue
Michigan Street & West Street
College Avenue & Washington Street
New York Street & West Street
Meridian Street & 16th Street
Maryland Street & West Street
West Street & Washington Street
Additional intersections that have been reported by others as dangerous include:
86th Street & Keystone Avenue
Keystone Avenue & Fall Creek Parkway
Allison Road & 86th Street
Allison Road & 82nd Street
21st Street & Shadeland Avenue
38th Street & Franklin Avenue
How to Report Dangerous Intersections and Unsafe Roads in Indianapolis
When filing a report about an issue with an intersection or an unsafe road condition, it's important to make sure you are contacting the proper organization or authorities. If you don't report to the right place, the issue will likely not receive an appropriate investigation.
Complaints for all Indiana state roads, highways, and interstates are primarily taken by the Indiana Department of Transportation (INDOT). You can call them directly at 855-INDOT4U (855-463-6848), or you can fill out their online form.
If the issue is with a city or county road, like a pothole, the INDOT site allows you to search for the appropriate local agency you would need to contact.
You can also report traffic concerns for Marion County by visiting the Mayor's Action Center website or by calling them at 317-327-4622.
Consult With an Indianapolis Car Accident Accident Lawyer
If you are involved in a car accident on one of Indianapolis's dangerous roads or anywhere else in the surrounding area, our team can assist you. Accidents can happen anywhere at any time, even on roads that are normally considered safe.
So no matter where your accident occurred, it's important that you consult with a local attorney if you were injured and need to file a personal injury claim. You are more likely to get the full and fair compensation you deserve to help you pay for your injuries and other damages when you work with an experienced attorney.
At Poynter & Bucheri, we have years of experience helping the people of Indianapolis file their claims and win high-value settlements. We are dedicated to protecting our clients' rights and ensuring they get the full compensation they deserve.
Don't hesitate — an experienced Indiana car accident lawyer can assist you right away. Call 1-800-265-9881 for a free case review.